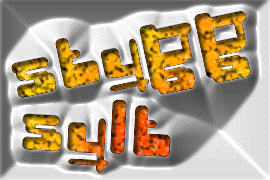 FACEBOOK GROUP FOR FACEBOOK GROUPIES
STYGG SYLT are Linus Walleij and Kaye Brewster and whoever happens to be around, don't contact us we contact you. Stygg Sylt lives right here on this page and nowadays we manage distribution via CD Baby which means basically: iTunes and Spotify and all that stuff. We have good old downloads here of all stuff as well.



Swedish: För att ladda ner låtarna, sikta på titeln ovan och klicka. Du lär behöva nån plejer för att lyssna på låtarna.

Origin information: Covers: Gråsång (KillerMörders / Frans af Schmidt), Kom ihåg mig (Conny Bergh), Snakefright ("Snake Fighter" - Linus Nielsen), Warez the Phuture ("Flying Shark" - Jim Evans), Rhaa Llovely 2 (Jeroen Kimmel)

Helpers on this virtual demotape: Frans af Schmidt, guitar on Den 125:e and Rhaa Llovely 2, riffs and lyrics in Gråsång. Logo above drawn by Lars Holmgren.
OK I guess you didn't understand a thing but it doesn't matter. what about visiting my other sitez instead? Or just my audio chambers? Or are you a Swede and want to know more?
Then visit our allies: