November 9, 2003 Total Lunar Eclipse
by
Bengt Ask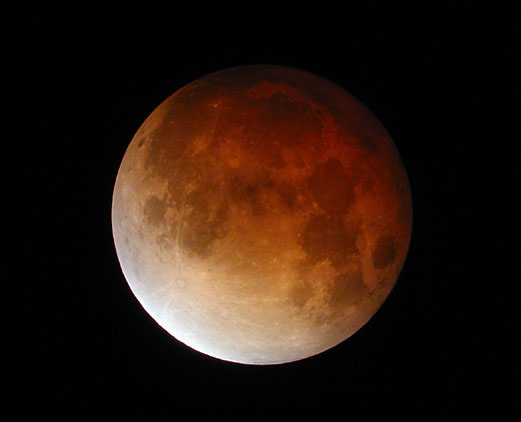 01:11 UT
A higher resolution (1302x1056) version is available here.
Summary
Note: Information on the technical details are located further down.
During this eclipse the moon did not pass through or near the center of the shadow cast by the earth, which explains the great variation in brightness and colour between different parts of the moon during totality. As can be seen in the photograph above, the colour ranged from copper red to almost white.
When the partial eclipse began clouds were constantly interfering and I really didn't expect the situation to improve. However, at about 00:30 UT the heavy wind that was blowing cleared the sky and it remained clear albeit windy throughout the event.
I used both my Olympus C2020 digital camera, afocally coupled to the telescope through a 26 mm Plössl eyepiece and attached with an adapter of my own design and manufacture, and my traditional Canon FTb SLR loaded with ISO 400 negative film. Since the digital images proved to be good enough for initial web publishing I decided against express development of the film, but I plan to publish those pictures as well at a later time.
The image presented above has been subjected to only slight image processing. The size was reduced and a weak unsharp mask was applied. No colour, brightness or contrast adjustments have been made. However, three or four pixels had saturated due to the relatively long exposure and these were manually removed in Photoshop.
The moon may appear somewhat "tilted" in my picture (the bright limb "should" have been more centered at the bottom of the image). I was forced into this composition since my afocal mounting hardware is reasonably stable only when oriented in a vertical position.
If you have a general interest in astronomy and astrophotos, you may want to have a look at my main page. You might also enjoy some photos of the January 9, 2001 Total Lunar Eclipse, which was quite similar in appearance to this one.
Haven't had enough of eclipses for one day? Check out my photographic study of the often neglected penumbral lunar eclipses.
Some quick notes:
Location
Lomma, Sweden, 13d East, 56d North
Optics
8" Celestron SCT at f/6.3 with focal reducer/corrector.
Camera afocally coupled to the telescope with a 26 mm
Celestron Plössl eyepiece (Vixen-made "silver top")
Mount
Vixen Super Polaris GEM tracking at sidereal rate
Imaging device
Olympus C2020 digital camera
Exposure time
1 s
ISO setting
400
Comments and suggestions are welcome. Send e-mail to bengt@df.lth.se
---
Image and text copyright © 2003 Bengt Ask.