June 6, 2012 Venus transit
by
Bengt Ask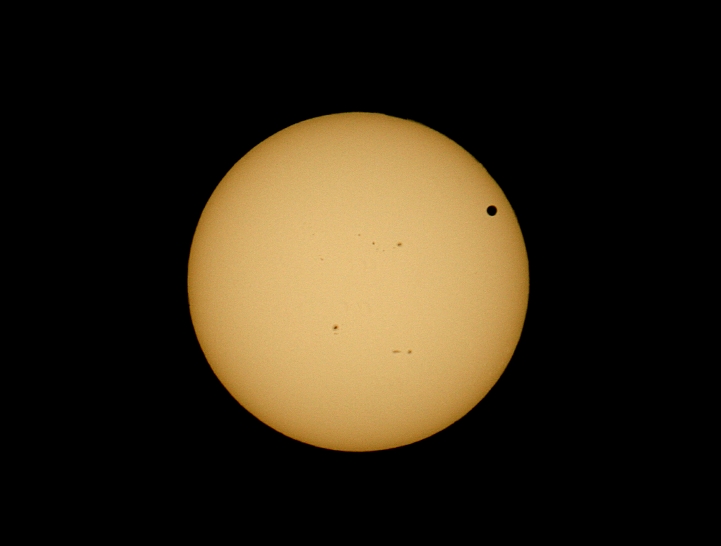 04:13 UT
Comments
Please note that the colours are "false". Although the image was acquired using a digital colour camera, my particular solar filter renders the Sun a rather neutral white, and for purely aesthetic reasons I chose to make the Sun look yellow. The image was given this particular hue, determined by my subjective mind, through computer software.
Close to the centre there are several faint and fuzzy arches. These are due to dust on the image sensor.
Some technical notes
Location
Lund, Sweden, 13d East, 56d North
Optics
Celestron 750 mm focal length telephoto lens (special
version of the C5 telescope optics, 1970's vintage),
stopped down with an off-axis solar filter
Solar filter
Baader AstroSolar
Mount
Fixed camera tripod
Imaging device
Canon EOS 20D
Exposure time
1/500 s
ISO setting
800
Imaging method
3 frames manually selected and stacked
Stacking software
RegiStax 6
Post processing software
GIMP 2.6.6
Comments and suggestions are welcome. Send e-mail to bengt@df.lth.se
---
Image and text copyright © 2012 Bengt Ask.