V2-kratern i Bäckebo - The V2-crater in Bäckebo
Besök i V2-kratern i Bäckebo rekommenderas för alla V2-entusiaster! Kör från Nybro (väster om Kalmar, öster om Växjö) mot Bäckebo / Alsterbro (väg 65), sväng vänster genom Bäckebo (väg 125), passera Knivingaryd, sväng av åt vänster mot "Gräsdals gård". Kör förbi Gräsdals gård. Efter c:a 200 meter kommer du till en skylt märkt "Bomben". Därifrån leder en snitslad stig förbi torpgrunden "Göteborg" upp genom skogen till kratern. Fullständig karta över nedslagsplatsen, finns i den militära rapporten. (För mer info om raketen, läs min essä Raketen och jag.)

Visiting the V2-crater in Bäckebo is recommended to all V2-enthusisasts! Drive from Nybro (west of Kalmar, east of Växjö) towards Bäckebo / Alsterbro (road 65), turn left through Bäckebo (road 125), drive through Knivingaryd, and turn left to "Gräsdals gård". Drive past Gräsdals gård. After c:a 200 meters you will find a sign saying "Bomben". From there, a path leads past the remains of a chalet called "Göteborg" up through the forest to the crater. There is a detailed map of the impact area in the military report. (For more information read my essay "The Rocket and I".)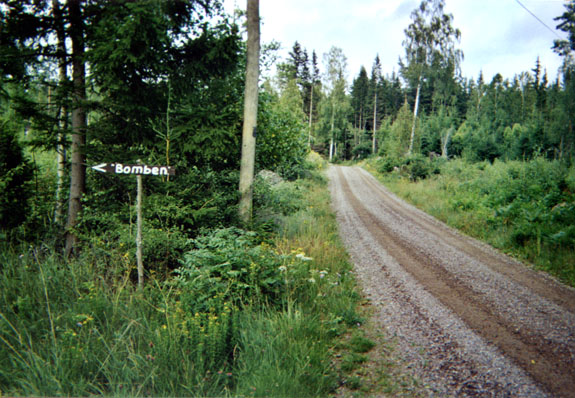 En skylt utanför Knivingaryd, 200 meter efter Gräsdals gård visar vart "bomben" finns.
A sign outside Knivingaryd, 200 meters past Gräsdals gård shows the location of "the bomb".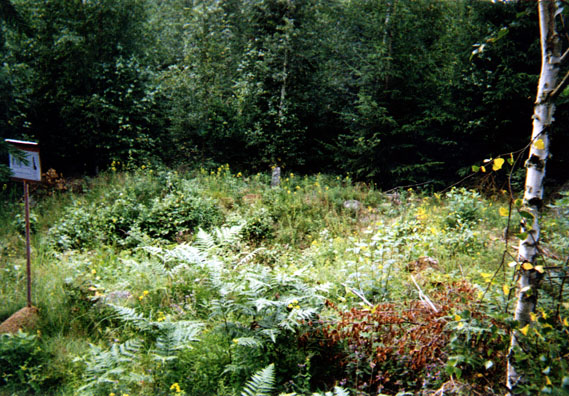 En vy över kratern från skogsbrynet.
an upper view of the crater from the forest.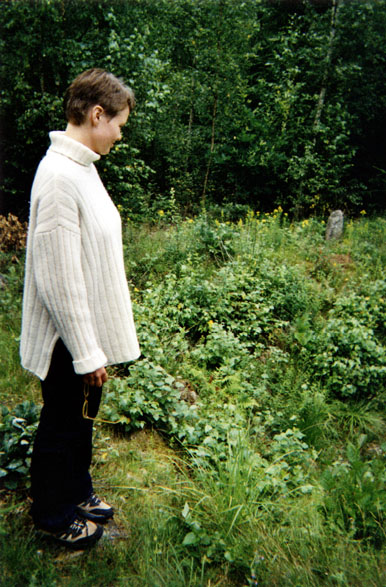 Flickvän granskar kratern.
Girlfriend inspecting crater.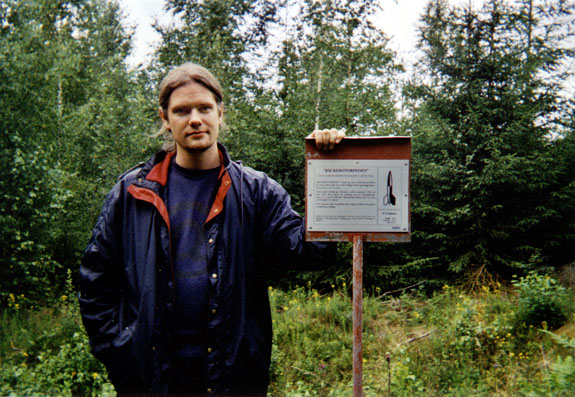 Författaren poserar med minnesplaketten.
The author pose by the memorial plaque.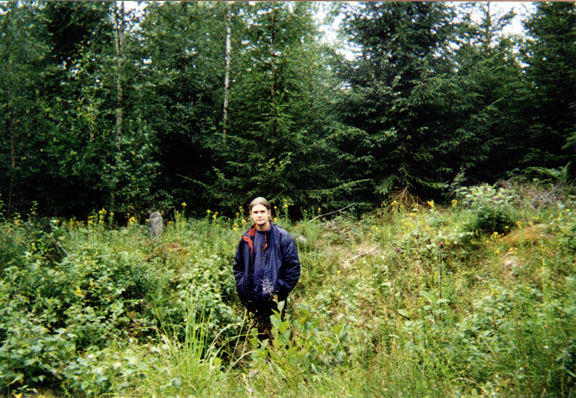 Författaren demonstrerar kraterdjupet.
The author illustrates the depth of the crater.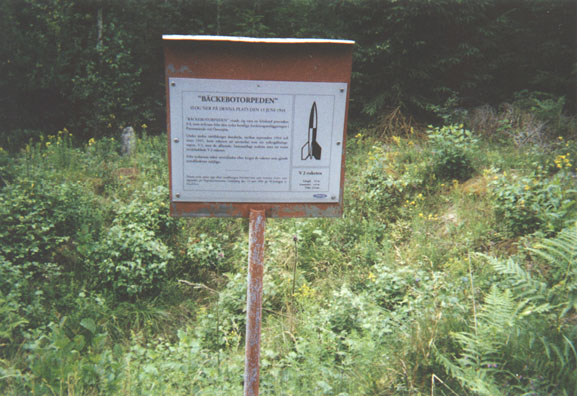 En närbild på plaketten.
A close-up of the plaque.