The Brooktree Bt848 TV-Card
So I got this (for me) unknown PCI TV-Card. Since I have got no more free PCI slots in my Linux machines, this one was to go in a Windows 2000 PC. And that is pretty much where the problems started... ;-)
With no really useful text on the card, I used a Debian rescue disk in order to find the card report itself as "Brooktree Bt848". My card has the very common Philips FM1216 TV tuner, and in combination with a lot of googl:ing I found a lot of useful, and a lot of less useful info on this. Finally I found some drivers and got the picture (both actually and literally), but no sound. So I made this page and asked the people in alt.comp.hardware.pc-homebuilt for help. I got help:
Bt8xx WDM video adquisition Driver
With this driver, I got it all, sound and picture. I also got indications that my card is perhaps a Leadtek WinView 601, but I am not quite sure. At least, that is what I chose when installing the drivers from the link above, and it works.
Still, there is the choice of TV application to be made. I currently use BorgTV, but it will not let other programs access the audio out when running, which is quite disturbing.
The reason for doing this page is since I had a lot of problems to make it work, I might help some other people out there. Below I have an image of my card along with descriptions of the different circuits.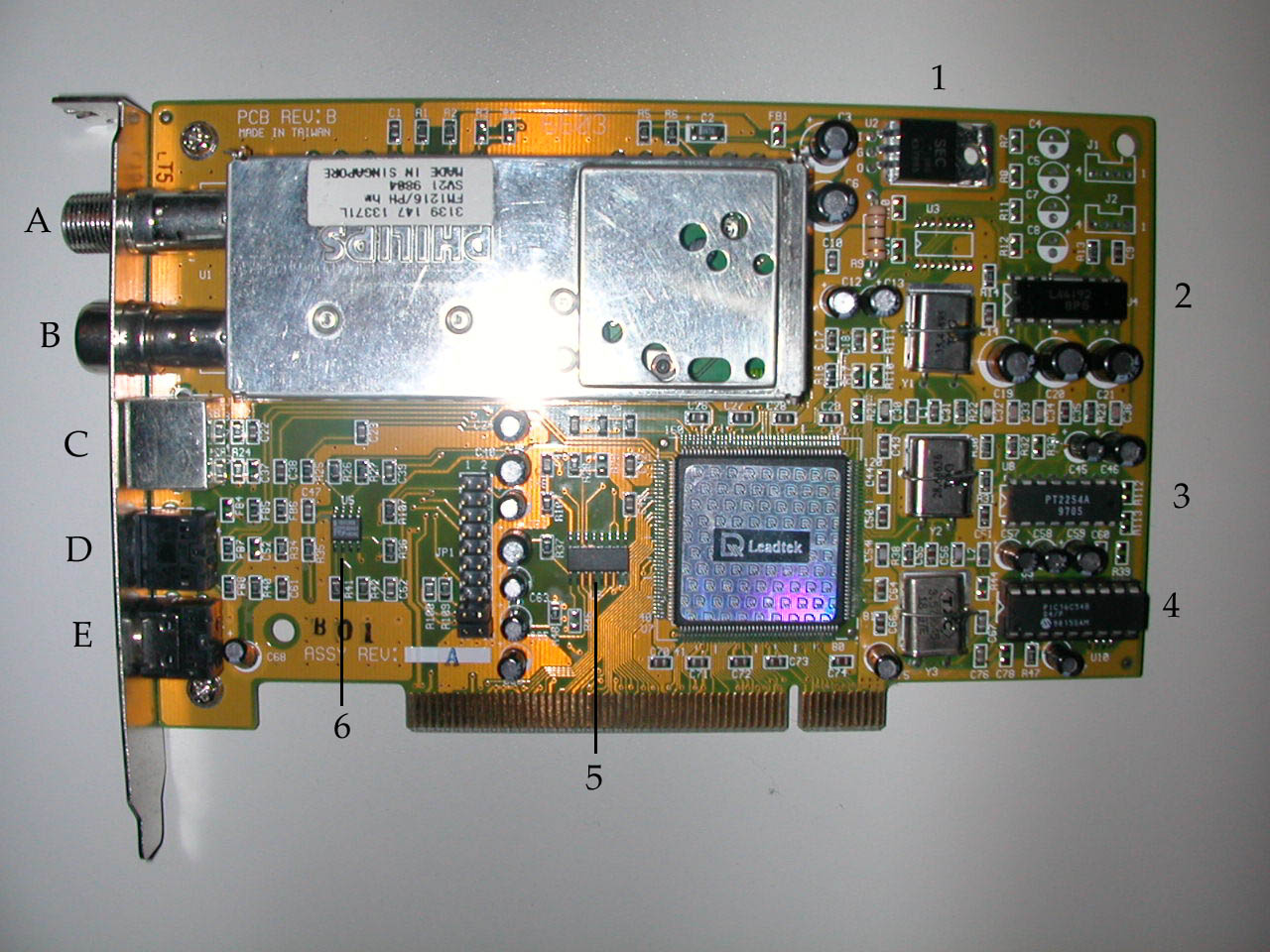 Text on card
PCB REV:B
MADE IN TAIWAN
6603
Connections
A
FM (antenna in)
B
TV (antenna in)
C
SVIDEO
D
Audio (audio out, connect to line in on sound card)
E
Remote
TV-Tuner
3139 147 13371L
FM1216/PH hm
SV21 9804
MADE IN SINGAPORE
IC:s
1
SEC
808
KA7805
This is a 3-Terminal 1A Positive Voltage Regulator.
Product Folder
2
LA4194
8P6
3
PT2254A
9705
This seems to be a sound chip made by Prince Technilogy Corp.
4
PIC16C54B
04/P
9815SAM
This is an obsolete PIC that is replaced by PIC16C54C.
PIC16C54B info
PIC16C54C info
5
PHILIPS logo
TL 74HC40530
HA B51230ME
AN HRn9748 C
ID
6
THAILAND
PHILIPS (logo)
TDA1308
8D407
H8091
This is an integrated class AB stereo headphone driver fabricated in a 1 mmCMOS process and has been primarily developed for portable digital audio applications.
Product Information
Clocks
7
35.46895
TOG
8
28.63636
TOG
9
TXC
3.579545
18 97E
---