The first day in Barcelona playing beachvolley
started not very early. Here's a picture of us on our way to the beach. And one picture where we first found some spanish guys playing the game.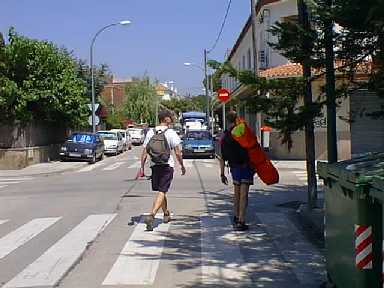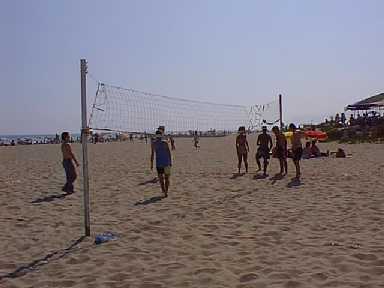 On our way we met a spanish guy having trouble with his car. It was stuck in the sand! Of course the Dirac Duo gave him a helping hand. The solution was to put a couple of blankets under the tires and then drive slowly while also pushing by hand. At the first picture you can see the wheel down in the sand and the second picture you can see the spanish man saying thanks to the Dirac members.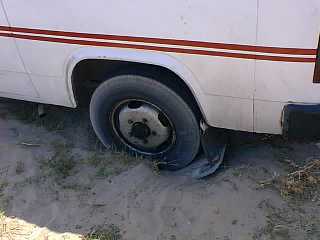 Then we started playing with the spanish guys. Not very much fun! Actually no fun at all! So the bar was our option instead. Here's a couple of photos. Some of them has other things in the way (?) !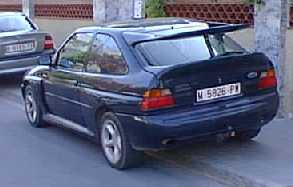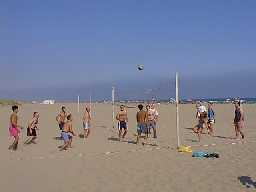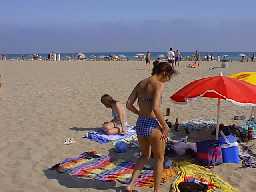 The bar was a lot better....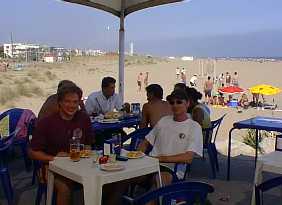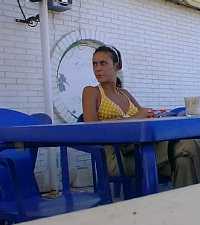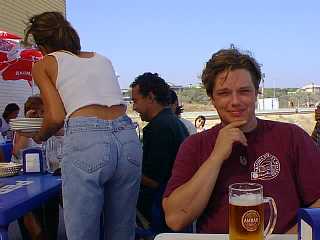 After this we were more or less ready to give up for the day, but we gave it another try and found this...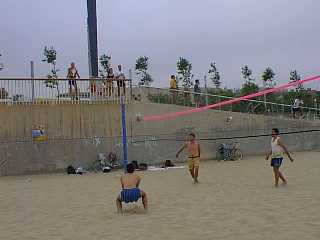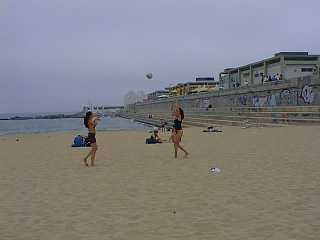 We asked the girls on the picture to the right if they wanted to play a mixed game since they didn't seem to have anyone to play with. They wanted, so we put up our net and started to play. A guy named Xabi came and joined us, and after a while a couple from Vancouver that spotted good volleyball from a beach restaurant.
Here's pictures with Fred playing with Xabi, Dirac Löfström with Angie, Dirac Brogren with Claudia...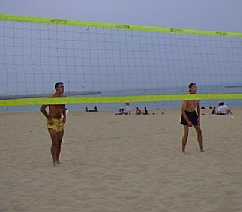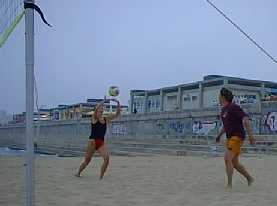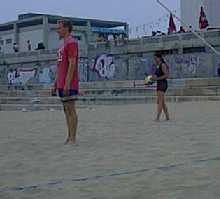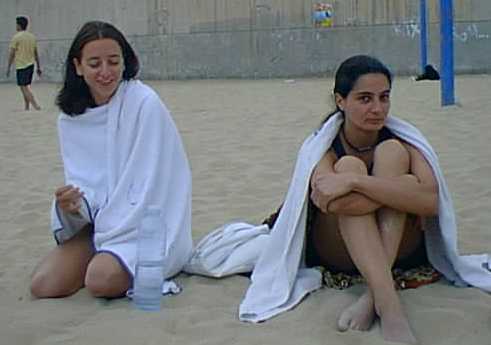 Angie and Claudia resting after the games...
Then the Dirac Duo was challenged by the couple from Vancouver. Below you find two pictures from that game.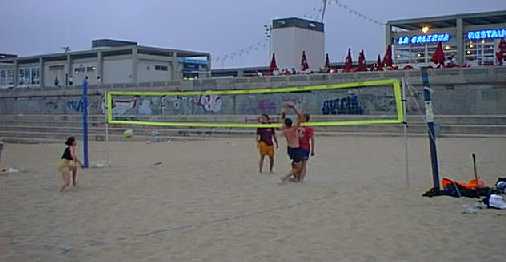 After a perfect set from Dirac Löfström, Dirac Brogren could quite easy pass the block! (Lucky again?)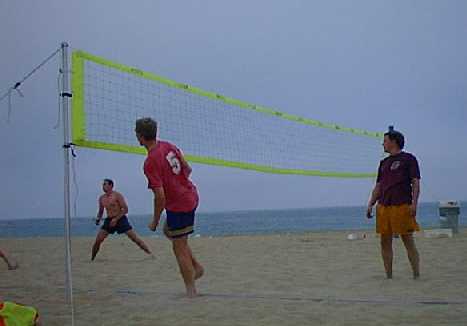 We don't know who took this picture but Dirac Löfström looks like it was the end of a ball.
After the game we decided to meet the next day at the same place, same channel. And the next day the same people showed up again. But that day there were several new ones as well. Look at the page "the second day in Barcelona" for a lot of photos of beachvolley. The last picture on this picture shows the canadian couple, Anette & Mark.